Welcome to the Joint Base San Antonio Hunting Program
The lottery for the 2018-2019 WTD Season has already been drawn. At this time there are no options for hunting white-tailed deer if you do not already hold a WTD Permit. If you still wish to hunt other animals please purchase a General Permit, which can be used to harvest any of the animals listed in the regulations (except WTD). **If you are new to JBSA please create an account. You will then be able to see your permit purchasing options.**
HARVEST LOG CHECKOUT TIMES HUNTING PANEL SUSPENSIONS
UPDATES: 12 DEC 2018 - THE SCHEDULE FOR THIS WEEKEND HAS BEEN REPOSTED. WE HAVE BEEN TOLD WE WILL ONLY RECEIVE A 14 DAY SCHEDULE FOR THE REST OF THIS SEASON. WE WILL UPDATE HERE IF THAT CHANGES.
10 DEC 2018 - THE ARMY SUPPORT ACTIVITY (ASA) ,WHO IS RESPONSIBLE FOR APPROVING OUR HUNTING/SCOUTING SCHEDULE IN RFMSS, HAS INFORMED US THAT WE MUST CHANGE THE WAY WE SCHEDULE HUNTING. WE ARE STILL TRYING TO WORK OUT THE DETAILS AND WILL POST UPDATES HERE. WE EXPECT THE SCHEDULE WILL LOOK DIFFERENT AND MAY NOT BE PROJECTED 21-DAYS OUT. AT THIS TIME WE ARE WAITING TO SEE WHAT HAS BEEN SCHEDULED FOR 13-17 DECEMBER.
WTD HUNTING SEASON HAS BEEN EXTENDED TO 27 JANUARY 2019. ALL EQUIPMENT (BLINDS, FEEDERS, CAMERAS, ETC.) MUST BE REMOVED FROM THE FIELD BY 31 JANUARY 2018 AS THE NATURAL RESOURCES OFFICE IS EXPECTING TO CONDUCT PRESCRIBED BURNS DURING FEBRUARY 2019.
27 NOV 2018 - COLLARED WTD MAY ONLY BE HARVESTED BY WTD PERMIT HOLDERS. HARVEST MAY HAPPEN IMMEDIATELY REGUARDLESS OF SEX. COLLARED WTD DO NOT COUNT TOWARD THE QUOTA. THE DEER MUST HAVE THE COLLAR ATTACHED WHEN THE BIOLOGIST ARRIVES AT CHECK-OUT.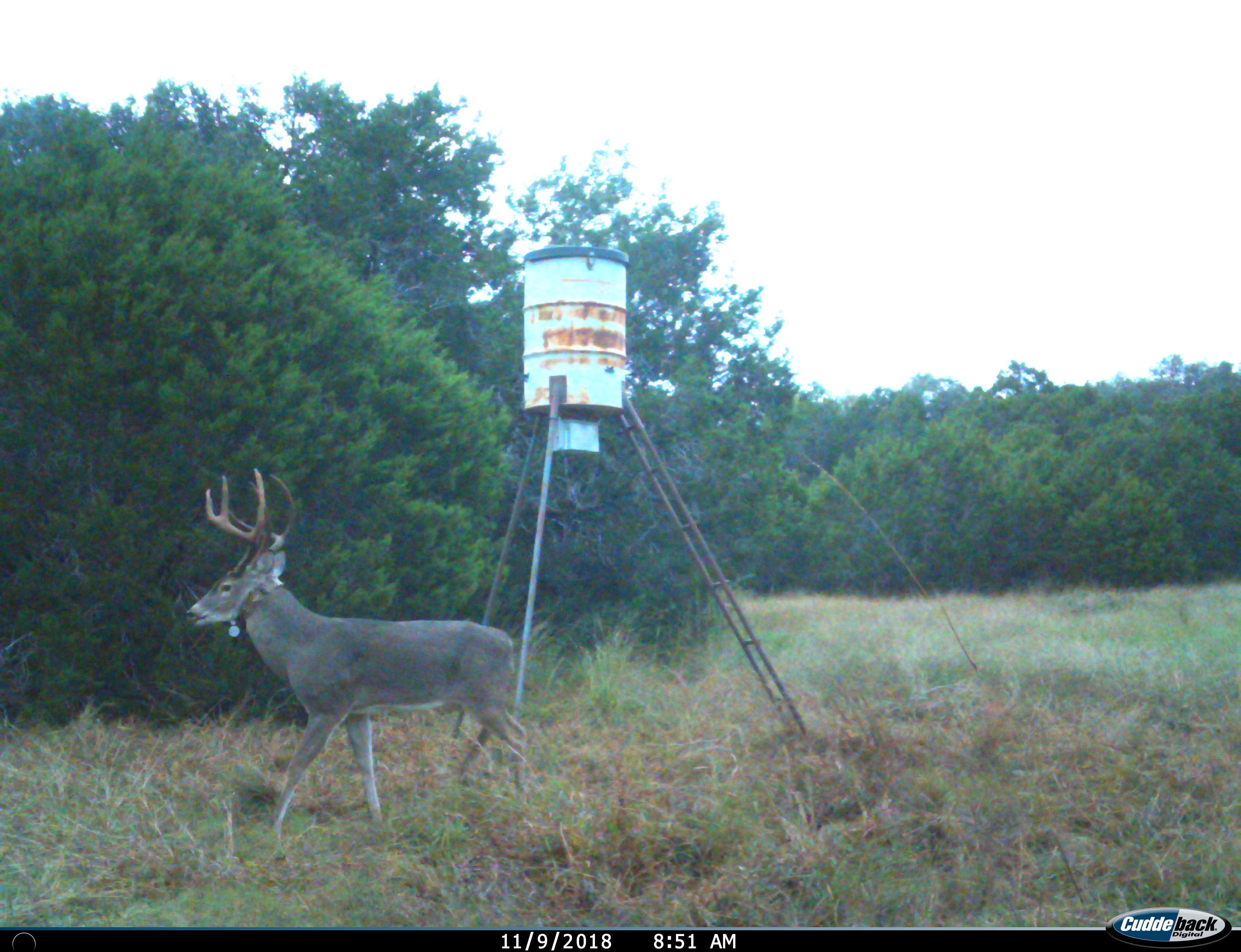 24 NOV 2018 - THIS IS A REMINDER TO NOT USE YOUR TEXAS WTD HUNTING PERMIT TAGS ON DEER HARVESTED FROM CAMP BULLIS.THE BIOLOGIST WHO CHECKS IN YOUR DEER AT RNGRC WILL SUPPLY A MANAGED LAND DEER PROGRAM (MLDP) TAG FOR YOUR HARVESTED WTD UPON CHECK-OUT.
WE HAVE HAD TO CUT NATURAL RESOURCES STAFF HOURS INDEFINITELY. BECAUSE OF THIS WE WILL ONLY HAVE ONE PERSON AVAILABLE TO CHECK OUT HARVESTED GAME ON WEEKENDS. THIS PERSON HAS ADDITIONAL DUTIES OUTSIDE OF THE HUNTING PROGRAM AND MAY BE IN THE FIELD. IF YOU WISH TO HAVE A SHORTER WAIT TIME TO BE CHECKED OUT PLEASE NOTIFY RNGRC WHEN YOU LOCATE YOUR HARVESTED ANIMAL. THANK YOU FOR YOUR UNDERSTANDING.
COMPLIANCE CHECKS
1C-6, GOOD
2B-6, GOOD
2B-10, GOOD
4C-1, GOOD
5D-7, GOOD
5D-11, EQUIPMENT NOT LABELED AND OUTSIDE OF CIRCLE
5E-6, OUTSIDE OF CIRCLE
5E-11, GOOD
5E-16, GOOD
6A-1, GOOD
6A-6, GOOD
6A-15, GOOD
8A-1, GOOD
8A-2, EQUIPMENT NOT LABELED AND SET UP TO SHOOT ACROSS 2 TRACK
8A-3, GOOD
8A-4, EQUIPMENT NOT LABELED AND OUTSIDE OF CIRCLE
11A-1, EQUIPMENT 300 METERS OUTSIDE OF CIRCLE AND WITHIN 70 METERS OF ROADWAY
11A-2, GOOD
11A-8, GOOD

11B-3, GOOD
---
5 NOV 2018 - SOME GOOD NEWS FOR RESERVISTS AND NATIONAL GUARD. WE HAVE BEEN GIVEN A NEW LEGAL OPINION ON ELIGIBILITY. RESERVISTS AND NATIONAL GUARD ARE NOW ABLE TO PURCHASE SCOUTING AND GENERAL PERMITS. WE LOOK FORWARD TO SEEING YOU ALL OUT ONCE THE GENERAL PERMIT AREAS REOPEN.
11 OCT 2018 - PLEASE NOTE THAT WE HAVE HAD TO MAKE A CHANGE IN THE REGULATIONS ABOUT CHECK-IN TIMES DUE TO SAFETY CONCERNS. HUNTERS WILL NO LONGER BE ABLE TO CHECK-IN LATER THAN AN HOUR BEFORE SUNSET. ALL SCOUTERS MUST STILL BE CHECKED OUT BY 1530 AND HUNTERS CHECKED OUT BY 90 MINUTES AFTER SUNSET.
4 OCT 2018 - AN UNMARKED FEEDER AND BLIND WERE REMOVED FROM 5E-11. THEY DID NOT BELONG TO THE CIRCLE OWNER. IF THIS IS YOUR EQUIPMENT PLEASE CONTACT RUSTIN TABOR AT 210-295-7339.
* THIS IS A GENERAL REMINDER THAT WE HAVE LIMITED CONTROL OF WHAT AREAS ARE OPEN AND WHEN THEY ARE OPEN. WE ARE ONLY ABLE TO SCHEDULE AREAS THAT ARE NOT ALREADY SCHEDULED 21 DAYS OUT. IN THAT 21 DAY WINDOW WE MAY HAVE TO CLOSE BECAUSE A DEPLOYING TRAINING UNIT MUST USE THE AREA. WE ALSO HAVE NO CONTROL OVER WEATHER AND FLOODING. WE ARE DOING OUR BEST TO KEEP EVERYTHING OPEN AND TO ENSURE YOU HAVE AS MANY OPPORTUNITIES AS POSSIBLE.
Make sure that you bring the following with you to hunt or scout:
TWO (2) COPIES OF YOUR JBSA PERMIT - ONE (1) TO LEAVE WITH RNGRC AND ONE (1) TO KEEP ON YOUR PERSON, if you have a WTD archery circle make sure your assigned circle is on your permit.
ONE (1) COPY OF YOUR CURRENT VALID TEXAS HUNTING LICENSE (MUST BE KEPT ON YOUR PERSON)
ONE (1) COPY OF PROOF OF HUNTER'S EDUCATION (MUST BE KEPT ON YOUR PERSON)
ORANGE HAT AND VEST. WEAR OR CARRY THIS WITH YOU WHEN YOU CHECK IN.
Should you have further questions please see the FAQ page.
PLEASE DIRECT KUDOS, COMMENTS, CONCERNS, COMPLAINTS RELATED TO THE JBSA HUNTING PROGRAM TO DAYNA.A.CRAMER.CIV@MAIL.MIL OR FILL OUT AN ICE FORM.
If you are having issues logging in or have forgotten your username or password please contact the Hunting Program Manager at 210-295-7889 or dayna.a.cramer.civ@mail.mil. Should you need in-person assistance please set up an appointment to speak with the Hunting Program Manager.
Click the Hunting Tab (above) to see the 2018-2019 JBSA-Camp Bullis Hunting Regulations and the 21-Day Availability for hunting and scouting.
The 21-day availability has been posted on the hunting tab. Future dates will be added and the 21-day availability updated as they are approved by Range Operations.
Maps are currently on the hunting tab that show WTD TAs, archery circle locations, and general permit hunting areas for 2018-2019. Coordinates for the center points of the archery circles have also been posted. Google can be used to search for the coordinates of a given stand a pin will be dropped on the map at the appropriate location.
Joint Base San Antonio iSportsman (www.jbsa.isportsman.net) will handle administrative and financial transactions for the JBSA-Camp Bullis hunting program. This site will provide an online automated white-tailed deer stand lottery system, conduct the sale of all hunting/scouting permits, and provide an informative website to better keep hunters up to date with specific information related to the program on JBSA-Camp Bullis.
To login please click "My Account" or register to create a User Account & ID.
JBSA - Hunting Program Hours and Contact Info